we are offering Who Rescued Who? Spring Photo Sessions!
Get Spring Photos of Your Beautiful Pet and Contribute to
Pet Rescue at the Same Time! 
on March 17 from 10 am to 2 pm.
They are located at 2135 South Winchester Blvd. Campbell


 Advanced online sign-up recommended. Walk-ups okay.
*Important Notice – Before signing up.
If your dog has exhibited any of the following symptoms of canine flu including coughing, sneezing, clear nasal discharge turning yellowish green, difficulty breathing, loss of appetite, or lethargy, we will not be able to photograph your dog. If your dog has exhibited these symptoms, seek veterinary care.
Part of the session fee is donated to Every Pet's Dream
dog rescue!
 We provide simple props.  Bring your own costumes if you like.
See examples below.
A Fun Experience!
We have a great time at sessions! We love your pets, treat them with respect  and shower them with attention. Angel Dog Photography provides toys, treats and noise makers to keep your fur child's interest.  We also encourage your enthusiastic participation in getting your pet's interest during the photo shoot !
Sessions are Only $75 and Includes:
One  4 x 6″ photo in a Who Rescued Who? photo frame (see samples below).
Online gallery to choose photo(s) for your print and for additional product purchases.
One digital file for social media sharing.
$25 per session is donated to pet rescue!
Samples of 4 x 6″ Who Rescued Who? photo frame with photo.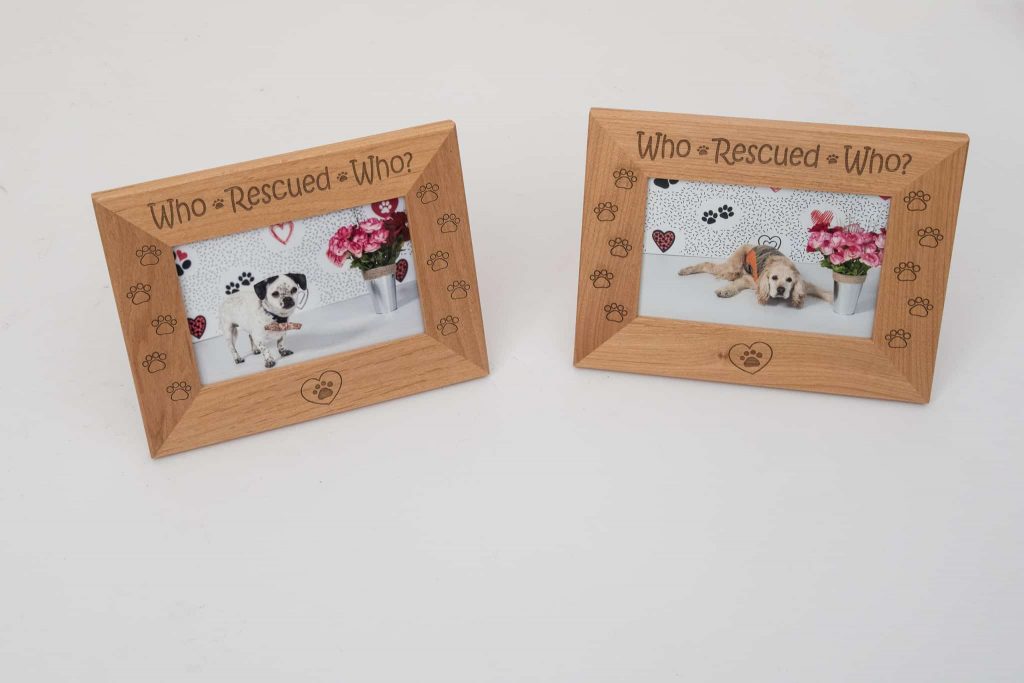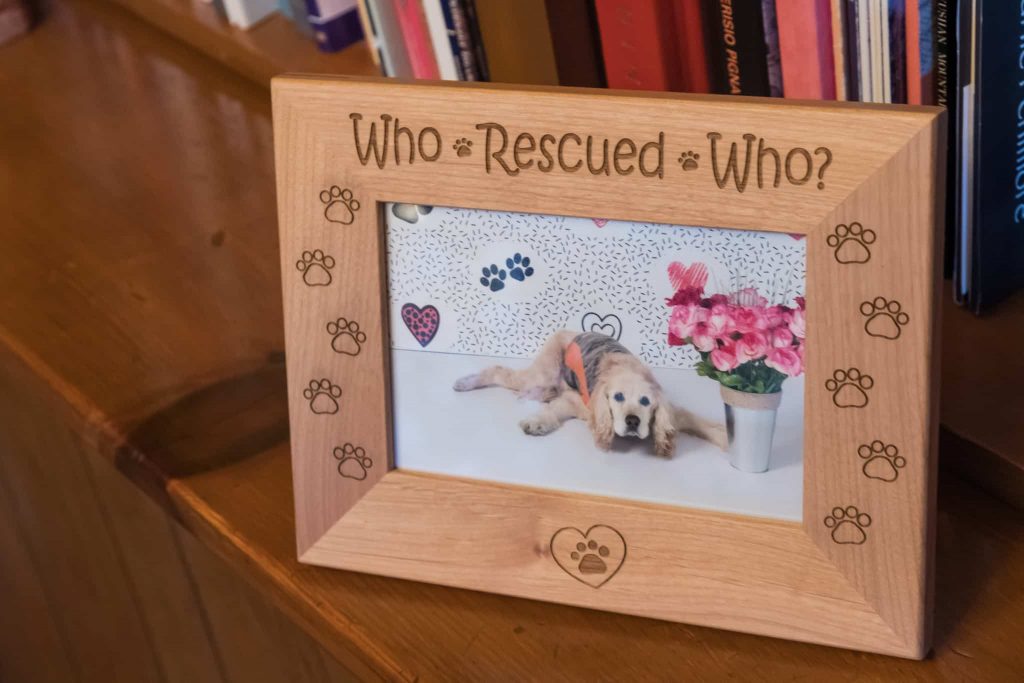 Multiple Pets and People
We can accommodate up to two pets in a single session   If you wish to be included in photo with your fur child, we can take pictures of one pet parent and pet at a time.
Special Collections and Pricing
We put together some special product collections exclusively for this event! If you want additional products there are two collections to choose from, plus you can get additional items a la carte'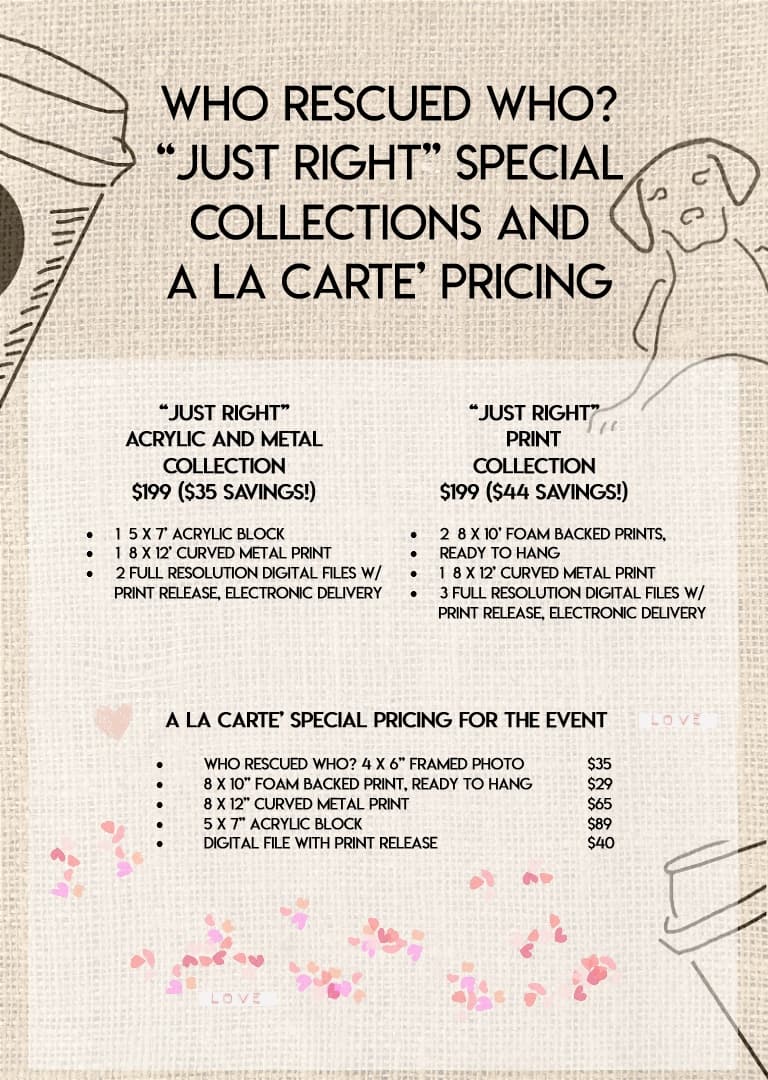 Product Photos
We will have samples of our products at the session, so you can see the quality of the products.
Acrylic Block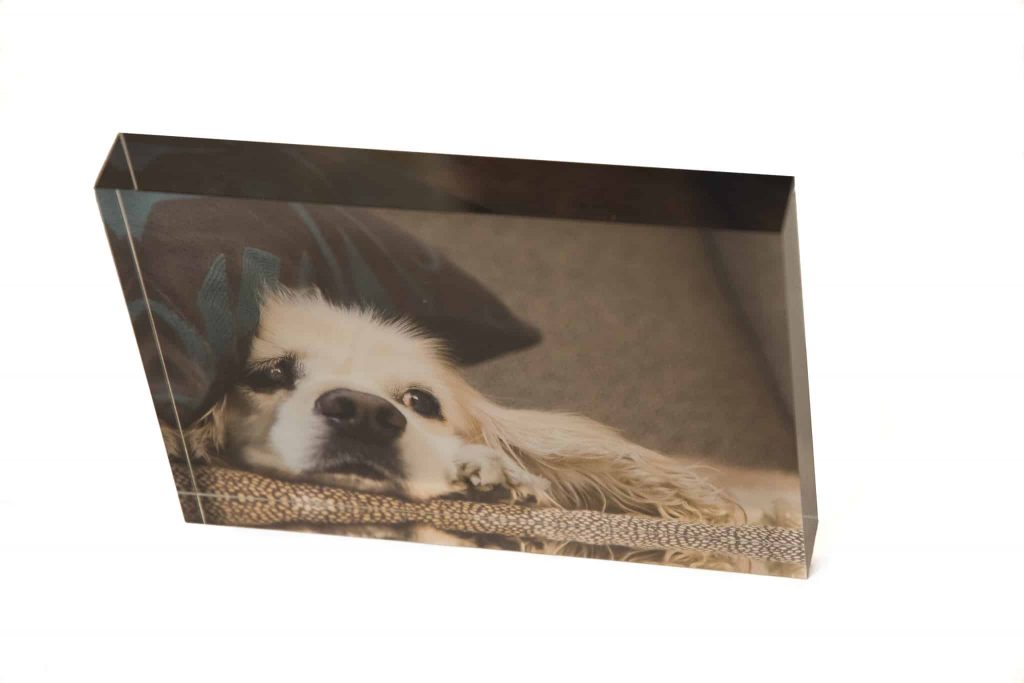 8 x 12′ Curved Metal Print
8 x 10′ Foam Backed Print
All products will be shipped to you within 10 business days
Sales Tax is Applicable to All Products.
Please don't hesitate to call or email with any questions. We can't wait to see you and your furry friends at our Who Rescued Who? photo session!