Instagram and Lightroom Mobile are a Perfect Match!
Instagram is many people's favorite social network and with good reason. It's easy, visual and fun. Many use it everyday like a more visual version of Facebook to keep in contact with friends and tell the story of their lives with pictures. We love it because it makes it easy to get your message out. The blogger community calls it "microblogging" because the photos, along with little messages are a great way to get a point across, bring attention to a cause, or advertise a business. Hashtags and emoji's make it even better.
As cool as Instagram is, it is not a great place to edit or improve photos. Instagram provides some nice filters which can help, but frequently you want more. That photo you snapped with your phone just doesn't have that extra "pop". This is where Lightroom Mobile (LR Mobile) comes in with some of the best editing tools available on a mobile app. LR Mobile is perfect for taking your Instagram photos to the next level. It is also the go to app if you have a DSLR and want to get photos from your desktop machine to Instagram by way of your smartphone. We will explore using LR Mobile with a DSLR, and many other features in future blogs. For now, we will concentrate on only using it with your smartphone.
LR Mobile is free and available for both IOS (Iphones) and Android. It is a free download and straightforward to install.
Create a Collection
After installing LR Mobile your first task is to create a collection. Collections are used to organize your photos, and you can think of them as labeled boxes. To create a collection, you hit the plus key (1. on photo) and give it a name. As you can see, I have a specific collection for Instagram. Once you create a collection you can Add Photos (2. on photo).
Following is the screen you receive after hitting Add Photos. It is sorted by Time so you see the most recent photos on your smartphone at the top.
Now the Fun Begins
After adding photos you can now use LR Mobile's powerful editing tools. We will go over a cropping and presets, then cover more in a future blog. Cropping is a great way to see how your photo will look on Instagram. Instagram uses a 1x1 aspect ratio, which means the photo will be displayed as a square. With LR Mobile you can change the aspect ratio to 1x1, crop it precisely and use the  rotate or straighten tools to make sure the horizon is correct.
You can click the Original button to change the aspect ratio.
Choose 1:1 to and crop as you see fit. Here is the result:
Notice the Original button now shows the aspect ratio 1 x 1
If you want to use a custom aspect ratio instead of one of the presets, you need to click the "Locked" button. This will allow free editing of the crop using your fingers.
You can also correct the horizon using the rotate "wheel".  It is measured in degrees (see below), and you rotate using your finger. This tool is difficult to use accurately because after you release your finger, it tends to move 2-4 degrees in the direction you were moving.  It normally takes more than one try to get exactly what you want. I wish there were a keypad option to input the exact degrees you want. Maybe Adobe will provide that feature in a future release!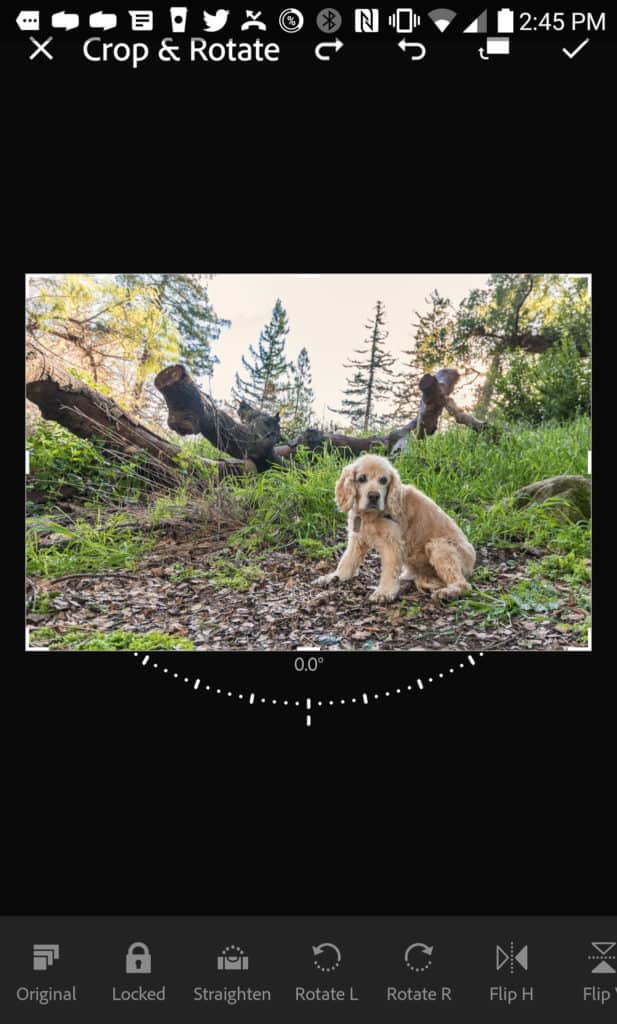 Presets add Pop!
One of my favorite features in LR Mobile is the preset.  This feature is similar to the filters in Instragram, but with a bigger variety. They are divided into sub-categories which you can see in the photo below.
I have a number of favorites. Clarity (low, medium, or high) is found under Detail and makes photos look sharper with more contrast. Most photos look better with at least a little clarity added. Vignette (light, medium heavy) is found under effect and helps draw the viewers' eyes to the center of the photo. Under Creative you can apply another favorite – Sepia Tone. There are a variety of presets, and you can experiment to achieve the look you want. Note that you can apply multiple presets if you hit the confirmation check mark after each selection. The following two photos show examples of presets.
Built in Camera App!
If you don't want to take photos and import them into LR Mobile collections, you can use the built in camera app. Simply go into the collection you want (in this case Instagram) and click the Camera button on the lower right. (see arrow and circle)
Once inside the camera App you will see familiar controls. LR Mobile supports both manual and automatic settings and RAW (DNG) capture. The camera app is full featured and takes advantage of the very latest smartphone camera features like RAW capture and HDR.  We will explore the advantages of RAW capture in a future blog. For now, you can see the Camera App interface below. In manual (Pro) mode you can control camera settings like Shutter Speed, ISO and White Balance. There is also an auto mode where your camera controls the exposure settings.
Workflow
So this is my process when I take photos for Instagram using my smartphone:
Open Ligthroom Mobile.
Select the Instagram collection.
Open the camera.
Take the photo.
Crop and edit the photo.
Share the photo to Instagram.
We have covered the first five steps. The sixth step is similar to sharing with other apps. First, you select the photo you want to share, then hit the share button. This brings up the apps you can share, including Instagram. Click the Instagram app, and it opens displaying the photo you selected as a New Post. Note the pictures below to see the steps.
So if you are an Instagram user, you should consider adding LR Mobile to create more compelling pictures. Your followers will think you are a pro!