Hi Everyone,
Yesterday Jake's Wish Dog Rescue had their adoption event, and Gary was there hoping to be adopted. While he hasn't yet landed a forever home, we know there is a special family waiting to adopt him. Fortunately several people did show interest in Gary, and he made a good impression. He is a friendly, snuggly fellow and loved the attention he was getting! There are more adoption events scheduled on July 1 and July 15, so keep spreading the word. See Jake's web page for more details.
If you have an interest in adopting Gary right now, you don't have to wait until the next adoption event. You can visit Jake's Wish Dog Rescue' web page and contact them. Further, you can fill out the adoption application to get the process started immediately.
Nine Dogs Got Adopted!
The other good news is that nine dogs did get adopted! What a great afternoon for all involved. Here are a few pictures of this great event!
Gary giving and getting Love!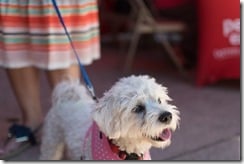 Tina got adopted!
This cute little girl didn't get adopted. Her name is Trinity (with Heidi, who runs Jake's).  If you are interested in her, go to Jake's Wish Dog Rescue to see her profile and fill out an adoption application.
Again, keep spreading the word about Gary, and we hope to see you at the next adoption event!