From Underdog to Wonderdog
Gary is a cute pitbull mix who is currently safe in a wonderful foster home. He came to Jake's Wish Dog Rescue as a bit of an underdog. We don't know much about his history before his fostering.  But he was young, under-weight and had Demodectic Mange (Demodex), a skin condition caused by mites.  When he was rescued from the shelter he only weighed 39lbs!
Gary when he was rescued: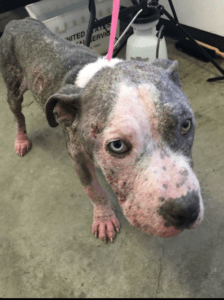 Fortunately, his foster parent stayed on top of his condition, and he was eventually cured. He now looks wonderful and is a picture of health!  Note these recent pictures of Gary enjoying a beautiful Spring afternoon.
Gary's exceptional foster care helped him achieve a healthy weight of 76lbs!
When Gary first came to his foster family, he was very rambunctious and hard headed. He didn't know how to walk properly and ate everything in sight. Fortunately, he attended beginner's obedience class at Cali K9 where he worked on sit, down, stay, impulse control and leash manners. While he is still rambunctious, he has greatly improved, gets along well with other dogs and cats and loves to play and cuddle. Enjoy this short video clip of Gary playing with a cat:
After spending a fun afternoon with Gary, we can say that he was well behaved and a joy to photograph.  We were even able to have him pose in a giant gift box.  Check it out.
His foster Mom was able to put him in the box without a fuss!
By the end of the photo shoot he was so relaxed and comfortable, he enjoyed some well deserved down time!
There's Just One Issue – Gary hasn't found his Forever Home
That's right, as wonderful as Gary is, he hasn't found a forever home. We know there is someone out there for him to rescue…but they haven't made the connection. We are certain more folks need to see him, and we need your help to get the word out he'll be an awesome companion to a great family.
To get the word out, we are running a promotion!
If you like this post on Facebook, or comment on it on our Facebook page we will enter your name into a contest for a complimentary photo session! We will photograph you and your pet(s) until we get a variety of great shots.  As part of the promotion you will receive some nice gifts, a 12 x 8 photo, a mouse pad and dog tag with photos of your choosing, and at least 10 photos for social media sharing. Click this link to see photos of the gifts. Note that this contest will not be active on Facebook until June 6th. If you share this before then, please comment with "shared" on the Angel Dog Photography Facebook page. *See below for further details.
These sessions are a great experience for you and your pet(s)!
Come Meet Gary!
Gary will be at Jake's Wish Dog Rescue adoption event on June 17th. from 1 to 4pm.
Pet Food Express
5148 Stevens Creek Blvd
San Jose, CA 95129
This dog is terrific, but his foster Mom says that the perfect dog parent for this fellow is someone with some experience with hard headed dogs and some knowledge of dog training. He does not have much experience with children, is cautious around them and like many dogs, does not enjoy high pitched noises.
You can see more pictures of Gary on Jake's Wish Rescue. Look for Gary's profile.
*Further Details 
Our promotion does require that you follow our process, so there is some time invested, but no financial obligation. Here is the link to view our process. Note that the location of the complimentary photo shoot must be within the greater Silicon Valley area.The winner of the drawing will be selected on July 21st 2017. We will announce the winner on our Facebook page. Note that Facebook does is not a sponsor or in any way endorse this contest. Facebook is not responsible for administering this contest in any way as it is the responsibility of Angel Dog Photography.