Have an amazing pet? Do you want to create memories of your pet that always put a smile on your face? A great way to do this is through slideshows. Check out our slideshow about our 16 year old cocker spaniel, Arnie.
Hire Us!
We can take your pictures and video clips (home movies…) and tell a story you will treasure forever. Our prices are reasonable, and we can guarantee you'll value your time working with us! We enjoy working with the photos clients have selected to include in the show. It's fun just looking at the material! We include you in each step of the process while we help you tell your pet's story.  Your photos don't need to be perfect, but they should reflect your pet's personality.
Doing it Yourself?
You will need the following items, along with a computer and a smartphone (or other devices that you can use to take photos and videos):
Content – photos and video clips of your pet that reflect his/her personality.
Music that you can use in a slideshow. This means music you have the right to use and does not include most commercial music.
Software that can produce a slideshow. This can be anything from dedicated slideshow software to photography software that has a slideshow function. I will provide a brief list of software suggestions later.
If you have several old pictures or movie footage, you might need additional equipment to post them on a computer, like a scanner or old video equipment to transfer historical home movies. You can always hire someone to do this for you if you don't have the equipment. For old movies, hiring someone is very likely your best option.
Getting Good Content
You may already have a  wide variety of pet pictures you could use.  If you don't, there are two ways to create nice pictures. First, you could hire a professional pet photographer. A good one will cost a few hundred dollars or more (depending on what you order), but you will probably get memorable pictures that capture the essence of your pet. If your pet is a dog, cat,  horse or something similar, photographers will frequently take outdoor "action" photos and snapshots in the home or studio.   Of course, you can be in some of those pictures if you want! Photographers may also provide some video clips.
Second, take the photos yourself. There is some good news here. Slideshows can be compelling without perfect pictures or perfect video! It helps to have better pictures for sure, but it's not essential. See below under "Don't Go Crazy" for more about why you don't need perfect content. Following are some photo tips for getting good pet pictures.
Photo Tips
Creating good pictures of your pet may be challenging and will certainly take some time and patience. The good news is that you probably already have a camera up for the job – the one in your smartphone. Note that for very active subjects, you may not be able to take action photos using the camera in your smartphone, as it may not allow you to increase the shutter speed to create blur free images. The latest Iphones and IOS 8 operating system allow for manual control. Unfortunately, even the latest Android based phones like the Samsung Galaxy 4 or 5 lack this capability.  Of course, any of the current point and shoot, mirror-less, or digital SLR cameras can do the job.  Most of the example photos below were taken with a Nikon DSLR.
Following are some general photography tips for successful pet photographs:
Take pictures that reflect your dog's personality. Our dog loves squeaky toys, so a picture like the one below really captures his personality. Consider taking pictures in locations your pet likes so they are relaxed and happy.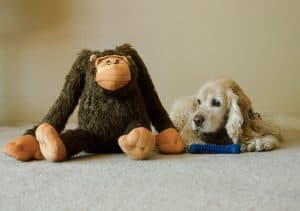 Arnie with Monkey
Capture your pet's eyes. If possible, try snapping a picture that reflects light from his/her eyes (called catchlights).  Getting catchlights makes for better pictures that seem more alive. See the following examples: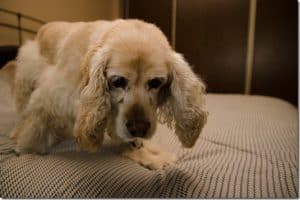 No catchlights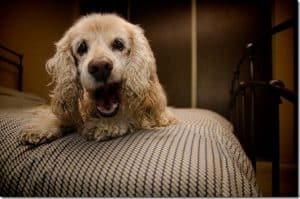 With catchlights
Get close. Most pets are small, and in order to capture good detail and make them the star of the picture, there is no substitute for getting close! See an example below:
Get down to his/her level. This has several advantages which include making it easier to capture your pet's face and eyes, allowing you to get close (see above) and for getting a different perspective. See the examples below.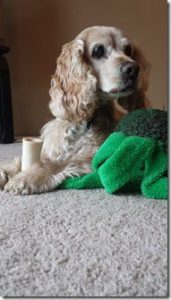 Photo above was taken with a Samsung smartphone.
Pay attention to lighting. For outdoor pictures, taking them near sunrise or sunset makes for less harsh, more pleasing light. If you are taking pictures in midday, consider finding some shade so you are not in direct sunlight. For indoor shots, look for locations near a window and use that light. You will appreciate the results. Following is an example of a photo taken in "harsh" light followed by one during midday, but in the shade. Either could be used, but photos taken in less harsh light are normally more pleasing.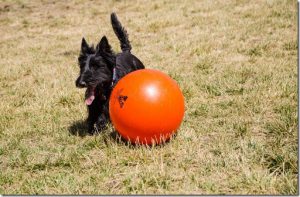 Harsh Lighting Example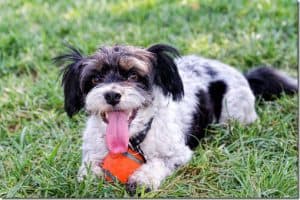 Shaded Light Example
Pay attention to the background! The following issues are common – you get your subject in focus, showing his/her personality, in the right light, only to discover later that there is something distracting in the background that you missed! While this can be challenging, always try to pay attention and if necessary move yourself or your pet to a better location and avoid the distracting background or object. If you can't move around and easily makes some adjustments, you could take the picture and later remove the distracting background object with software. Try snapping the photo in a way that puts the distracting object near the edge of the picture so you can "crop" it away. This involves resizing (zooming) the image so the distraction is removed. There are other ways of removing distracting background objects, but they are much more involved than cropping. See the photo below as an example of a challenging background. Notice that the woman behind the horse is distracting and would be very hard to remove with software.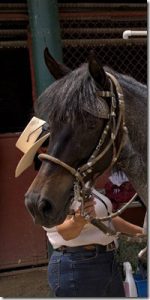 Distracting background
Be sure to add pictures with people (like yourself) in them! A pet story wouldn't be complete without including the pet's family members!
If you follow these tips, you should have some nice pet photos for your slideshow.
Video Tips
There is good news regarding videos and slideshows – you can usually tell a great story without video clips! That said, there is no question that video can capture content that wouldn't work well with just photographs. For example, our dog greets us with a happy dance when we return home.  The minute we come through the front door,  he enthusiastically greets us with his tail endlessly wagging, and he picks up a squeaky toy and prances around the room doing the twist. It's hilarious, and you can't capture these special moments very well with just photos.
Unfortunately, taking good video usually requires more than using your smartphone or tablet.  You will need some accessories like a tripod with a pan and tilt head to keep things steady, and for good audio, an external microphone. You may also prefer an app that provides more functionality than the camera app that came with the phone.  Below are some simple tips that will dramatically improve your video. Note that most of these suggestions apply to camcorders and DSLR cameras with video capability.
Change orientation. Shoot video in landscape mode! This will ensure your video looks good on all your devices. Portrait mode is simply too narrow.
Only take video in bright light. Your smartphone can take good video, but probably not in dim light. For indoor video, make sure your subject is near a window with good sunlight or under a bright electronic light.
Lock your focus. This will prevent the camera from constantly trying to re-focus if you move around, creating really jerky video. On a smartphone this is usually done by selecting your subject on the screen with your finger.
Use a tripod with a pan and tilt head. This allows you to keep the smartphone stable and move it smoothly.
Taking good audio with a smartphone is difficult in anything less than perfect conditions without an external microphone. Find someplace quiet without a lot of background noise and stay out of the wind. One of the best ways to deal with audio is to not deal with it! Don't use the recorded audio and instead replace it with slideshow music. This avoids poor audio that would detract from the show, and in many situations audio is unnecessary to tell the story.
Keep your clips short. I am not a professional videographer, and I doubt most of my readers are. To maximize quality, try to take 5-15 seconds of interesting video (hopefully of your pet doing something silly!) where you don't have to move around much.
These tips are enough to help you get some good video clips that will help capture your pet.
Don't Go Crazy!
You can spend a lot of time and money trying to create better photos and videos, but for slideshows this is not really necessary. While having cinematic video with perfect sound and professional pictures are nice and make for a slightly more visually appealing show, the difference in the show's final quality is minimal. Here is why. Slideshows, by their nature, do not display your content for very long. Further, you sometimes add motion to slides which tends to obscure content flaws. A slide with a zooming picture usually causes the viewer to overlook small issues with the photo. Video, on the other hand, is a bit more problematic for two reasons. First, it is very easy to take shaky video, which is very distracting, and second it is easy to have very poor audio. To avoid shaky video, keep the clips short and use something to stabilize the camera (tripod, monopod, shoulder mount for a heavy camera). Audio can be avoided altogether if necessary or should only be considered in quiet conditions. Otherwise, invest in a quality external microphone. It is the only method I have found to record good audio in any less than perfect conditions.
What About Slideshow Software?
The good news is you most likely have software you can use. New Apple computers come with their ILife package of applications that include both IPhoto and IMovie. Both programs can be used to create slideshows. As a bonus, IMovie has the ability to edit video clips (if necessary). For Windows users Microsoft provides Windows Live Movie Maker (as part of the Windows 2012 Essentials) for free download. Another program you might already have is Photoshop Elements, which has a built-in slideshow program. If you prefer a more powerful program, you can purchase dedicated slideshow or high end video editing software. There are many choices, and I have tried several. For Macs, you could consider Fotomagico (dedicated slideshow software, very good in my opinion) or Final Cut Pro. For Windows,  consider Proshow Gold. It has every feature you need to create an amazing slideshow with dazzling special effects.
There are also numerous free slideshow programs available online (although I have not really explored these). Finally, you could consider purchasing a subscription to one of the two premiere web-based programs – Animoto or Proshow Web. These programs are not free, but have a key advantage in providing a good selection of royalty free music (meaning legal to use in your show from a copyright perspective). Animoto is very easy to use and almost guarantees a good result. Proshow Web is also easy to use, and it gives a few more editing options. I recommend both.
Making the Show
Now that you have everything you need, its time to make the show!
Here are some basic tips.
Put all your photos and video clips in one folder. This makes it much easier to locate your content when making the show.
Choose your music carefully. Music sets the mood. If your pet is silly and whimsical, choose music that reflects that. Remember to follow copyright laws regarding musical use. If you post your video on YouTube, Facebook, or Vimeo with music that its content robots think is copyrighted, they might remove the video.
Choose a 16:9 aspect ratio (assuming your software gives a choice). This means the show will display correctly on a computer, TV or smartphone. If that choice isn't available, when you publish the show choose either 720p or 1080p, as these are automatically created in that aspect ratio.
Use landscape oriented photos when you have the option. It displays better. For video, always use landscape.
Add some motion to your slides, just not too much of it. Motion keeps the audience involved, but too much motion will detract from the story. Depending on the software, you can also use the time between slides (transitions) to add interesting affects.
Keep your show short! We know you love your pet, but don't overdue the length. It is very easy to bore your potential audience.
Use captions to help tell your pet's story. Make sure you use a font that is easy to read with text color that doesn't blend too closely with the background. For example, white text on top of a very light picture will not show well and make it difficult to read. Keep the captions short so they don't interfere with the flow of the story. Make sure you leave enough time for your audience to read the caption. An easy way to measure time is by reading the caption aloud and making sure your slide displays for that duration of time.
If you follow these basics, you will create a memorable show that you, your family and friends can enjoy for years to come. Our furry friends are worth the effort!
Some Thoughtful Pet Quotes, Just for Inspiration!
"Such short little lives our pets have to spend with us, and they spend most of it waiting for us to come home each day. It is amazing how much love and laughter they bring into our lives and even how much closer we become with each other because of them." ― John Grogan, Marley and Me: Life and Love With the World's Worst Dog
"It may be a cat, a bird, a ferret, or a guinea pig, but the chances are high that when someone close to you dies, a pet will be there to pick up the slack. Pets devour the loneliness. They give us purpose, responsibility, a reason for getting up in the morning, and a reason to look to the future. They ground us, help us escape the grief, make us laugh, and take full advantage of our weakness by exploiting our furniture, our beds, and our refrigerator. We wouldn't have it any other way. Pets are our seat belts on the emotional roller coaster of life–they can be trusted, they keep us safe, and they sure do smooth out the ride." ― Nick Trout, Tell Me Where It Hurts: A Day of Humor, Healing and Hope in My Life as an Animal Surgeon